National reference centre / FAO reference centre for rabies

IZSVe has been active in rabies control since 1977, when a Europe-wide WHO Programme for Rabies Surveillance was established (http://www.who-rabies-bulletin.org/). The Centre gained extensive experience in the oral vaccination of foxes, which was carried out for the first time in Italy in 1984, alongside laboratory rabies diagnosis.
IZSVe was designated by the Italian Ministry of Health as the National reference centre for rabies in May 2002 and appointed as an United Nations FAO Reference Centre for rabies in December 2012. The Centre has been authorized by the OIE/WHO (1995), DEFRA (UK) (1999) and, more recently, by the EU (decision 2001/296/EC) to test the effectiveness of rabies vaccination in domestic carnivores by in vitro antibody testing.
IZSVe is accredited according to 17025 ISO standards. All testing is performed according to international guidelines (OIE, WHO). In addition, the following tests have been officially accredited by "Accredia", the Italian National Accreditation Body:
Fluorescent antibody test (FAT)
Rapid tissue culture infection test (RTCIT)
Fluorescent antibody virus neutralisation test (FAVN)
Activities and services
Epidemiological situation
Projects and collaborations
Publications
Contacts
The institutional activities carried out by the FAO and National Reference centre are listed below:
rabies diagnosis and surveillance in wild and domestic animals
rabies antibody titration in animals and humans
characterization of rabies isolates
confirmatory diagnoses made by other laboratories
assistance and information to the Ministry of Health regarding rabies control and prevention in animals and humans, as well as regulatory aspects
data collection at the national level and for the WHO Rabies Bulletin Europe
preparation of programmes of oral rabies vaccination of red foxes
monitoring of oral rabies vaccination campaigns in the red fox population
standardization of laboratory tests among the regional rabies laboratories and organization of national interlaboratory trials for rabies diagnosis
participation in international interlaboratory trials for rabies diagnosis and antibody titration
collaboration with other EU or international reference centres
national and international training and education sessions dedicated to laboratory staff and veterinary practitioners
collaboration with first aid units and infectious diseases departments for rabies diagnosis and epidemiological investigations related to human exposure and suspected cases
research activity in the field of rabies epidemiology and control in wildlife, rabies virus characterization, rabies virus dynamics
international collaboration in the framework of EU projects
Epidemiological situation
Italy has recently regained the status of a terrestrial rabies-free country. A national rabies surveillance programme and preventive oral rabies vaccination campaigns targeting the red fox population are implemented on a regular basis.
The north-eastern territories of Italy were affected by rabies in the 1970s and 1980s, as well as between 1991-1995. More recently, an outbreak occured between the end of 2008 and early 2011. Italy regained its rabies-free status in February 2013, with the last case being detected in February 2011. During the 2008-2011 epidemic, a total of 287 rabies cases were confirmed in animals, but no associated human cases were recorded. Infections predominantly affected the red fox population, with occasional spill-overs into other wild species and domestic animals.
The risk of rabies re-introduction into Italy from the bordering areas has long been recognised. Molecular studies related to the 2008-2011 Italian rabies circulation in red foxes revealed that, as with previous rabies epidemics, the latest Italian epidemic had been linked to the epidemiological situation in the adjacent regions. Two viral genetic groups were identified (Italy-1 and Italy-2), both belonging to the Western European clade. Phylogenetic and phylogeographic analyses also revealed that both groups had been circulating in the Western Balkans and Slovenia in previous years and were only later introduced into Italy (Fusaro et al., 2013).
The new epidemiological evidence prompted the introduction of an emergency programme of oral vaccination of foxes according to European guidelines, mandatory vaccination of domestic dogs and heightened disease surveillance by veterinary authorities in wild and domestic animals in affected areas. At the same time, officials initiated regional public health campaigns to increase awareness of both human and animal health risks.
The reference centre gathers epidemiological data, which is transmitted to the national authorities and to the WHO Collaboration Centre for Rabies Surveillance, available at http://www.who-rabies-bulletin.org/.
Projects and collaborations
Publications
De Benedictis P, & De Battisti C (2014). Demonstration of Lyssavirus Nucleic Acids by Pyrosequencing. In C. Rupprecht, & T. Nagarajan (Eds.), Current Laboratory Techniques in Rabies Diagnosis, Research and Prevention Elsevier Ed. (pp. 205-217)
De Benedictis P, & De Battisti C (2014). Genetic Characterization via Pyrosequencing. In In C. Rupprecht, & T. Nagarajan (Eds.), Current Laboratory Techniques in Rabies Diagnosis, Research and Prevention Elsevier Ed. (pp. 107-116)
De Benedictis P, De Battisti C, Marciano S, Mutinelli F, Capua I, Cattoli G. (2013): Pyrosequencing of the rabies virus glycoprotein gene to demonstrate absence of vaccine-associated rabies cases following oral vaccination. Vet J. 2013 Mar;195(3):388-90.
Fusaro A., Monne I., Salomoni A., Angot A., Trolese M., Ferrè N., Mutinelli F., Holmes E., Capua I., Lemey P., Cattoli G., De Benedictis P. (2013): The introduction of fox rabies into Italy (2008‐2011) was due to two viral genetic groups with distinct phylogeographic patterns. Infection, Genetic and Evolution 17, 202‐209. 2013 Apr 18.
Nouvellet P, Donnelly CA, De Nardi M, Rhodes CJ, De Benedictis P, Citterio C, Obber F, Lorenzetto M, Pozza MD, Cauchemez S, Cattoli G. (2013): Rabies and canine distemper virus epidemics in the red fox population of northern Italy (2006‐2010). PLoS One. 2013 Apr 22;8(4):e61588.
Robardet E., Andrieu S., Bruun Rasmussen T., Dobrostana M., Horton D.L., Hostnik P., Jaceviciene I., Juhasz T., Müller T., Mutinelli F., Servat A., Smreczak M., Vanek E., Vazquez‐Morón S., Cliquet F. (2013): Comparative assay of anti‐rabies conjugate performance at the European level. J Virol Methods 191, 88‐94. 2013 Apr 8.
De Benedictis P, Mancin M, Cattoli G, Capua I, Terrregino C. Serological methods used for rabies post vaccination surveys: an analysis. 2012 Aug 17;30(38):5611-5. doi: 10.1016/j.vaccine.2012.06.089.
De Benedictis P, Perboni G, Gentili C, Gaetti L, Zaffanella F, Mutinelli F, Capua I, Cattoli G. Fatal case of human rabies imported to Italy from India highlights the importance of adequate post-exposure prophylaxis, October 2011. Euro Surveill. 2012 May 10;17(19). pii: 20168.
De Benedictis P, De Battisti C, Dacheux L, Marciano S, Ormelli S, Salomoni A, Caenazzo ST, Lepelletier A, Bourhy H, Capua I, Cattoli G. Lyssavirus detection and typing using pyrosequencing. J Clin Microbiol. 2011 May;49(5):1932-8. doi: 10.1128/JCM.02015-10. Epub 2011 Mar 9.
Talbi C, Holmes EC, De Benedictis P, Faye O, Nakouné E, Gamatié D, Diarra A, Elmamy BO, Sow A, Adjogoua EV, Sangare O, Dundon WG, Capua I, Sall AA, Bourhy H. Evolutionary history and dynamics of dog rabies virus in western and central Africa. J Gen Virol. 2009 Apr;90 (Pt 4):783-91.
Latest news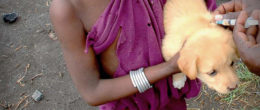 28 September is the World Rabies Day 2016,  a day of action and awareness-raising to promote the fight against rabies. Rabies is one of the most…
The worldwide progressive restriction of natural habitats is leading many wildlife species closer to domestic animals and humans. Among these, some…
Two monoclonal antibodies with broad-spectrum and high potency against rabies viruses and rabies-related lyssaviruses have been identified and…
You can read all the news on this topics on this page of the News section of the website: News > News Topics > Rabies
Go to Rabies news »