Research
The IZSVe carries out research activities in the fields of zoonosis, animal health, animal welfare and food safety in order to develop new diagnostic techniques (serological, virological and biomolecular), vaccines and vaccination procedures, as well as epidemiological strategies to promote public health.
Research programs are planned and conducted upon request from national and international organizations, e.g. the Italian Ministry of Health, Italian regional and provincial governments, the European Union (EU), the European Food Safery Authority (EFSA), the World Organisation for Animal Health (OIE), the Food and Agriculture Organization of the United Nations (FAO).
Research fields
Animal health: diagnostic methods and surveillance systems for diseases of different animal species (poultry, cattle, pigs, rabbits, fish species, bees)
Animal welfare: identification of breeding systems aimed at improving the quality of life of animals and respecting ethical criteria
Food safety: risk analysis (management, assessment and communication of food risks); diagnostic methods for the identification of biological and chemical risks in food
Publications
You can consult the publications and the proceedings published by the researchers of the IZSVe on the Refworks platform:
IZSVe Publications Archive »
The research projects in progress lead by the Istituto Zooprofilattico Sperimentale delle Venezie.
The research projects led by the Istituto Zooprofilattico Sperimentale delle Venezie in the last years.
---
Latest news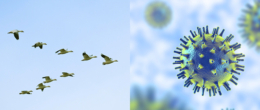 This report describes the genetic characteristics of the complete genomes of 27 European HPAI H5N8, H5N5 and H5N1 viruses recently identified in…
Today as never before building strong international collaborations is essential. This is the final message that emerged from the final meeting of the…
September 28th is World Rabies Day, the world day to fight against rabies. The Istituto Zooprofilattico Sperimentale delle Venezie (IZSVe) joins…
You can read all the news on this topics on this page of the News section of the website: News > News Categories > Research & Projects
Go to Research & Projects news »