Research
The Istituto Zooprofilattico Sperimentale delle Venezie (IZSVe) carries out studies and research, surveillance plans and scientific collaboration projects in the fields of zoonosis, animal health, animal welfare and food safety.
Scientific research and collaboration projects are planned and conducted to address the needs of local, national and international organizations, e.g. the Italian Ministry of Health, Italian regional and provincial governments, the European Union (EU), the European Food Safery Authority (EFSA), the World Organisation for Animal Health (WOAH), the Food and Agriculture Organization of the United Nations (FAO).
---
Research Lines
Animal health
Diagnostic methods, surveillance systems and epidemiological strategies for diseases of different animal species (poultry, cattle, pigs, rabbits, fish species, bees)
Animal welfare
Identification of breeding systems aimed at improving the quality of life of animals and respecting ethical criteria
Food safety
Risk analysis (management, assessment and communication of food risks); diagnostic methods for the identification of biological and chemical risks in food
IZSVe Projects
Information on the main national and international projects in which the IZSVe is involved, funded by the Italian Ministry of Health or other organizations.
IZSVe Projects »
Publications
You can consult the publications and the proceedings published by the researchers of the IZSVe on the Refworks platform.
IZSVe Publications – Refworks Archive »
---
Latest news
The highly pathogenic H5N1 avian influenza epidemic that occurred between 2021 and 2022in North-Eastern Italy was one of the most serious ever…
Istituto Zooprofilattico Sperimentale delle Venezie (IZSVe) has been identified as a key innovator in the European Commission's Innovation Radar…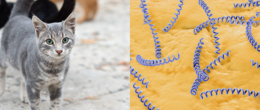 Leptospirosis is one of the world's most widespread zoonotic diseases, which can infect both humans and many animal species, including dogs and,…
You can read all the news on this topics on this page of the News section of the website: News > News Categories > Research & Projects
Go to Research & Projects news »